The map of the campsite
Consult the map of your campsite and have a glimpse of your next vacation under the sun of Herault, feet in the water. You can locate camping caravan sites, accommodations and all the 4-star facilities at Camping Robinson. The aquatic area, direct access to the beach and the Mediterranean, everything is there! The plan is also a good tip to not go around in circles and lose a minute of your vacation!
The entrance to the campsite is on the channel side. Our welcoming reception awaits you there: its exotic décor sets the tone for your holiday! Near the reception is the mini-club which welcomes your children to offer them various manual activities and large group games. On the beach side, our large aquatic area extends: an exotic 220 m2 lagoon with pools, fountains and whirlpools. All around, a beach with a tropical decor is equipped with many deckchairs where you can relax. By the pool, you will find the bar Cruso, a pleasant straw mat where you can refresh yourself with softs and cocktails. Not far away, the grocery store offers you a large number of food products and everyday items. Access to the fine sandy beach on the Mediterranean is located nearby. This central alley of the campsite also borders the children's playground and the city stadium, a multi-sport field where basketball, football and handball are played. Our site includes two rental districts, one on the channel side, the other on the sea side, plots dedicated to "modulo'camps" and "ready to camp", and a large flowered and vegetated area of bare pitches for traditional camping and caravanning. Three sanitary blocks are located there.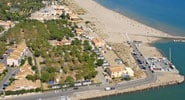 Cliquez sur le plan pour découvrir notre camping !
Click on the map to discover our campsite !
Klik op de kaart om onze camping te ontdekken !
Klicken Sie auf die Karte, um unseren Campingplatz zu entdecken !